I say Day "1ish" since it started Sunday, December 21 at 3am with a lobby call to leave for the airport.  32 hours later, we arrived in Foshan after landing in Guangzhou, China.  Bus to airport, train to terminal, 3 flights with another bus ride between terminals in Tokyo, and an hour bus ride from airport to Foshan = really long day of travel.
Now that we are here (it's Wednesday, December 24 now as I type), we spent yesterday getting our bearings and trying to get on the time zone and schedule here.  We then had a lovely tour of two historic sites here in Foshan.
We first went to Liang's Garden.  It is a beautiful, small estate in the center of the city that they are still preserving and maintaining.  So much was lost with the many cultural revolutions over the past two centuries.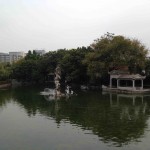 The second location was Foshan Lingnan Tiandi where they have built a series of modern shops and restaurants in the style of the old shops and older China.
Although they don't celebrate Christmas here like we do in the USA, they do still decorate and have a Santa Claus.  It's interesting alright.
Now to get ready for a concert Christmas Eve tonight here in Foshan.  I'll post more photos in the concert hall and surrounding area.