It's only days 7 and 8 of the tour, and they are already running together.  Ana, Carl and I decided to seek out real coffee – Starbucks.  We finally found one about a mile from our hotel in Shenzhen in a shopping mall.  The mall had a strange theme for the holiday:  "Bingo Christmas" and this was their decor: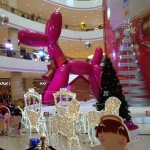 We then had a fun concert in Shenzhen at the Shenzhen Concert Hall.  Such a gorgeous hall!  The acoustics were absolutely fantastic.  I think this will be a similar design for the new acoustic hall at the Dr. Phillips Center for the Performing Arts.
The next morning, we had a 6am lobby call for the airport where we are always herded like cattle to check in: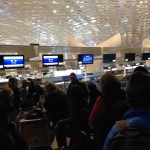 We then flew to Beijing where we were again dumped at this interesting hotel – Royal Palace Hotel.  The lobby is beautifully decorated, but the smells and cleanliness standards just are not capable of being processed by my immune system.  Again, no one here at the hotel speaks or understands a single word of English.  This is a huge challenge when you have 40+ English speaking guests and are trying to help them.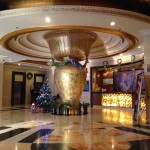 Shortly after check in and lunch, we had to board a bus and go to the Beijing National Opera House. It is a beautiful building with amazing features.  The hall is also acoustically perfect, and the audience was the most appreciative and fun audience we have had thus far on the tour.  Our hosts for this city then took us to "Big Pizza" for dinner.  The buffet not only had great pizza, it had chicken wings and other delicious foods that were not Chinese.  Sure, I enjoy Chinese food, but I cannot eat it for 3 meals a day for 7 straight days.  It was a welcome relief to my digestive system, too.
After a rough night's sleep on the hard mattress (no spring at all and typical of every hotel where they put us here in China), I awoke and joined friends for a visit to Beijing Zoo.  We started by going to the Marriott Hotel a block away (everyone speaks beautiful English and is very courteous), had Starbucks again and a good breakfast, then took a taxi to the zoo.  The driver actually dropped us off at the BJExpo next to the zoo.  So much really is lost in translation.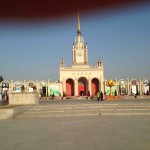 When we finally found the zoo entrance, we started at the Giant Panda exhibit, then worked our way around.  I think we saw everything, but it is a HUGE zoo and we walked a total of 7 miles just inside the zoo.  The weather was absolutely beautiful, and there was not much smog at all!  The sun was shining and the sky was actually blue.  While in the Polar Bear exhibit, my phone slipped out of my gloved fingers and fell to the ground, shattering the glass screen.  When we came back to the Marriott, I met the kindest, friendliest concierge serviceman, Ted Shi.  He wrote in Chinese the name of the place that fixes phones and even what I needed done in Chinese.  I went to the location and was able to even haggle by myself to get it fixed properly.  I paid approximately what it would have cost in the US to have it fixed, but I was happy it was done so quickly on a Sunday evening.  Even the bank was open for me to exchange currency.  After taking care of this problem, I met the others in my party back at the Marriott where we had a delicious dinner.  We then all walked back to the required hotel, all dreaming how we wish we could stay in clean, nice accommodations.  Still, it was another adventurous day here the land of China.