The morning started off beautifully with Starbucks coffee and breakfast again at the Marriott, followed by a taxi to Dragonfly Spa.  I had the most wonderful Chinese massage and foot massage (approximately two+ hours total).  The muscles were so tense, and the female therapist was wonderful in working out every issue.  On the taxi ride back to the hotel, I saw the largest screen down the side of a building that I have ever seen: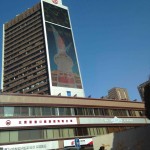 I then went back to the Marriott for lunch, then back to our no-star hotel to check out and got on a bus for the airport.  It was a smaller airport in Beijing this time, but the security was extremely thorough.  It took us an hour to check all the bags as there were so many things triggering the alarms (just about anything with a battery in your checked baggage).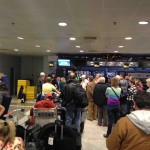 During our wait time, I was able to walk around the airport where I saw two more interesting Santas, including one with a "Happy Birthday" hat on his head:
Finally, after a total of 2.5 hours of waiting and standing with no seats anywhere to be found (we already had to wait an hour prior to that since check-in was not open yet), we got through security and to the gate where we then waited another hour before boarding a very full flight to Xining.  Another 45 minute bus ride to the hotel – yes, another Chinese brand with not a soul who speaks English.  The rooms are at least a little bit cleaner, and I would give it maybe 1 star for accommodations.  After a fairly decent night's sleep, several of the orchestra members went to the monastery, but my body is still detoxing from the massage yesterday.  *Note to self:  do not have a massage and fly on the same day due to pain, stiffness and pressure changes.  Therefore, I am staying here until we depart for the concert hall tonight.